Personally-Crafted Car Insurance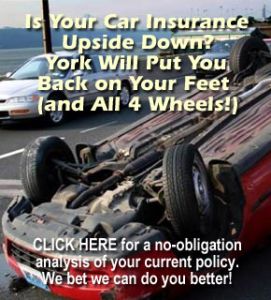 Auto Insurance isn't just a good thing to have to protect you financially in the case of an accident - in Maryland, it's required, and you risk significant penalties if you drive an uninsured vehicle.
But all policies aren't alike. What happens if you get hit by an uninsured driver? Are you covered? What happens if you incur liability through something that happened? Are you covered? How about medical expenses? The truth is — cut-rate, minimum coverage policies CAN LEAVE YOU EXPOSED!
DON'T RISK IT. We're ready to not only save you money on your current policy, but give you peace of mind, too. We're so sure we can do a better job for you than what you've got now, that we're offering a complete soup-to-nuts analysis of your current policy — no charge, and no obligation!
Call us or use this web site to reach Butch Tilley, President of York Insurance Services. Butch will get right back to you!
Coverage Options You Should Consider
As Butch will show you, pretty much all policies offer "Collision plus Comprehensive Other than Collision coverage" — they pay for damage to your vehicle from an accident, plus from most other causes of physical damage to your car (fire, theft, flood, etc.).
But Butch will review with you things Collision-plus-Comprehensive can't cover:
Uninsured/Underinsured Motorist Coverage — This coverage pays if you are injured by a person who is completely uninsured or doesn't have enough liability Insurance to cover your injuries. It also covers you if you are in an accident with a hit-and-run driver.
Liability Coverage — Liability coverage pays for injuries you cause to other people and damage you cause to other people's property if you are at fault in an automobile accident.
Medical Payments Coverage — Medical Payments Coverage pays medical expenses for you and passengers in your car who are injured in an automobile accident, no matter who is at fault.
Personal Injury Protection —This coverage pays for things like medical and rehabilitative expenses, replacement services, and even funeral expenses. It also pays for loss of income if you are injured in an auto accident and are unable to work.
Optional coverage — Optional or special coverage includes extras such as towing, rental reimbursement, and roadside assistance.
How Much Coverage Do I Need?
Good question! Choosing the appropriate level of Insurance coverage depends on many factors. We'll discuss them all with you!